Gone are the days when graffiti was not recognized as an art, today, more than that is an attitude. As a manifestation of ideals or not, is certainly a language that interferes with our daily lives. When leaving the marginality has become for many part of urban intervention. For all these reasons, throughout the month of April, on Thursdays from 22h to 2h, visitors to the collective cultural Crew Hassan, Rua das Portas de Santo Antão, n º. 159, in the heart of Lisbon, will have the opportunity to participate in a creative living space. Here, the month of April will be devoted to graffiti, through Hip-Hop, Street Dance, Reggae & Dubstep, Soul, Jazz, Electronic, Funk, R & B, MC's from Clullage, Niggasson, Klaydom, eMagistrado, where the sound of national DJs, live acts with integrated 5-writers (Pariz, Vile, Slap, Sea and Combined) and Cris, who is responsible for Body Painting. All stakeholders can have a body part painted.
THURSDAY 1 April
Dj set Lucky jazz / soul / funk / hip-hop
Special guest: M. C. Chullage
Writer: Pariz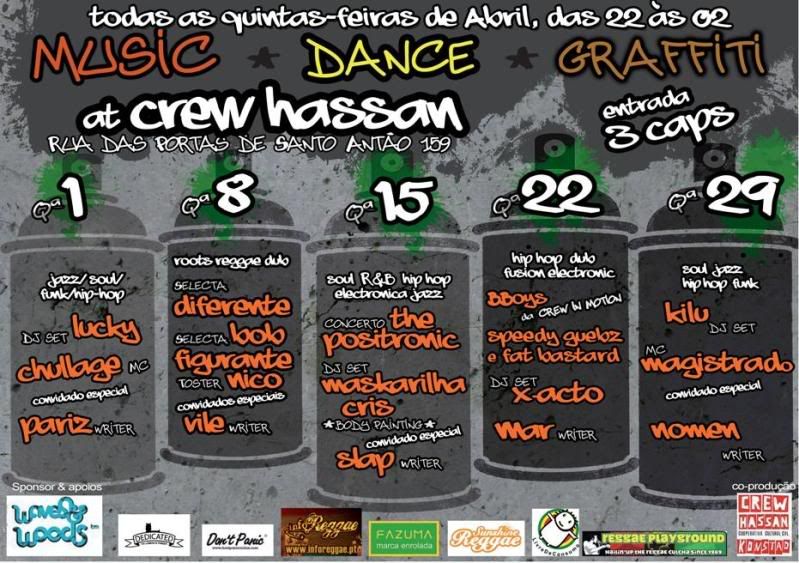 Big up 2 Dedicated Store 4 all the support.... check more info...
here
Longe vão os tempos em que o graffiti não tinha reconhecimento como uma arte, hoje em dia, mais do que isso é uma atitude. Sendo uma manifestação de ideais ou não, é com certeza uma linguagem que interfere com o nosso quotidiano. Ao sair da marginalidade tornou-se para muitos parte da intervenção urbanística. Por todos estes motivos, durante todo o mês de Abril, nas quintas-feiras das 22h às 2h, quem visitar o colectivo cultural Crew Hassan, na Rua das Portas de Santo Antão, nº. 159, mesmo no centro de Lisboa, irá ter a oportunidade de participar num espaço de convivência criativa. Neste espaço, o mês de Abril será dedicado ao graffiti, passando pelo Hip-Hop, Street Dance, Reggae & Dubstep, Soul, Jazz, Electrónica, Funk, R&B, M.C.'s desde Clullage, Niggasson, Klaydom, eMagistrado, sempre ao som de DJs nacionais, integrados com live acts de 5 writers ( Pariz, Vile, Slap, Mar e Nomen) e do Cris, que será responsável pelo Body Painting. Todos os interessados poderão ter uma parte do corpo pintada.
Grande big Up 2 Dedicated Store pelo suporte não só a este evento, como a muitos que têm acontecido ultimamente, e aqueles que viram no futuro.
Programa
QUINTA-FEIRA 1 de Abril
Dj set Lucky jazz/ soul/ funk/hip-hop
convidado especial: M.C. Chullage
Writer: Pariz
http://www.ilovegraffiti.de/parizone/